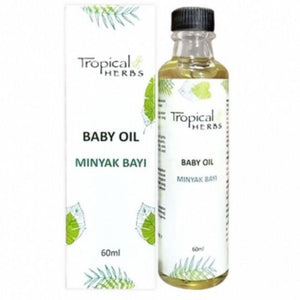 ALL-NATURAL SOOTHING RELIEF FOR YOUR BABY ❤️
Tropical Herbs Baby Oil is formulated with the blend of high-grade oils, including peppermint oil, eucalyptus oil, nutmeg, palm oil & clove
It contains essential oils such as:
Peppermint oil (mentha piperita oil) Soothing fresh scent that creates a refreshing feeling when used in massages; enhances feelings of relaxation and rejuvenation.
Eucalyptus oil (eucalyptus globulus oil) Known for its antibacterial properties that protects from germs.
Nutmeg (myristica fragrans oil) A natural flavouring agent that also acts as a perfume with antibacterial and antioxidant properties.
Palm oil (elaeis guineensis oil) Used as herbal remedy, helps to moisturise and texturise skin.
Clove (eugenia caryophyllus oil) Help reduce sagging skin, removes dead skin cells for a youthful and radiant-looking skin.