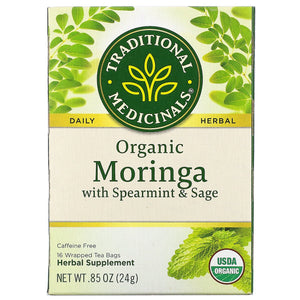 Herbal Power
Contributes to a healthier you.*
Taste
Earthy and floral with uplifting hints of mint.
Plant Story
Ayurvedic healers have been using moringa—a.k.a. "the Miracle Tree"—for over 3,000 years for its many benefits. Native to the sub-Himalayan regions of India and Nepal, moringa thrives in drought-like conditions. We blend it with sage and spearmint for a refreshing, minty lift, perfect for everyday support.