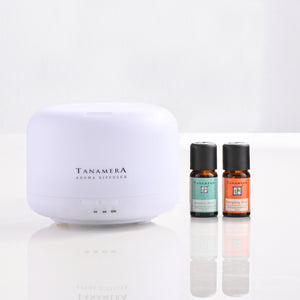 Tanamera Aroma Diffuser is a simple-to-use way to diffuse essential oils. Its ultrasonic technology breaks a mixture of essential oils and water into microparticles, disperses them into the air, and activates the powerful plant constituents found in Tanamera essential oils. Tanamera Aroma Diffuser can transform any space into a spa-like atmosphere.
Tanamera Aroma Diffuser can be used to:
Transform your surroundings: The ultrasonic frequency generates waves at 2.5 million times per second, releasing essential oil molecules into the air to help create a relaxing, spa-like atmosphere in your home or office.
Eliminate odours: The ultrasonic technology gently disperses essential oils throughout a space, removing lingering smells without resorting to synthetic air fresheners.
Safeguard your home environment: The Aroma Diffuser supports a natural, healthy environment by replacing harmful household chemicals with effective, all-natural essential oils. Humidify the air: The Aroma Diffuser's constant humidified air helps keep your skin moisturized and feeling fresh.