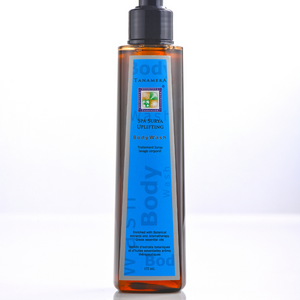 Uplift your senses with Tanamera blend of the essential oils of Sweet orange, cajaput and litsea cubeba and luxuriate in Tanamera's Spa Surya Uplifting body wash to refresh and rejuvenate your skin.
Our naturally formulated body washes are made from natural based actives and non-actives without the use of any synthetic preservatives, coloring, perfumes and surfactants. Cleans well without the dryness that's is associated with petroleum based surfactants such as SLS.
Our high percentage of essential oils will also surprise you with its effects. Tanamera Spa Surya Uplifting Body wash contains Orange, Cajeput and May Chang essential oil that help to stimulate circulation and recharge your energy.