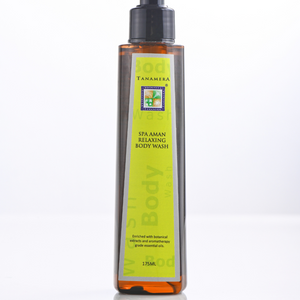 Unwind with Tanamera Spa Aman relaxing body wash. Enriched with botanical extracts and Tanamera's blend of essential oils, Tanamera body wash treats your mind and body simultaneously!
Our naturally formulated body washes are made from natural based actives and non-actives without the use of any synthetic preservatives, coloring, perfumes and surfactants. Cleans well without the dryness that's is associated with petroleum based surfactants such as SLS.
Our high percentage of essential oils will also surprise you with its effects. Tanamera Spa Aman Relaxing Body wash contains Patchouli, Tangerine, Lavender and Ylang Ylang essential oils that help to relax and soothe you spiritually and physically.