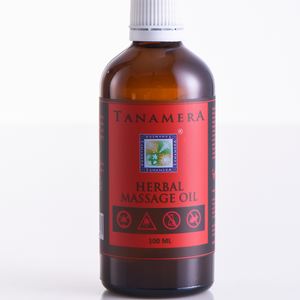 Specially concocted massage oil that is painstakingly boiled with herbs that contain these properties: antibacterial, warming, stimulating blood, anti-inflammatory, astringent, natural antibiotic, and antiseptic, antispasmodic, antifungal.
Tanamera Herbal massage oil is also wonderful to be used for sport massage. The natural warming effect from the herbs penetrates the skin to relax stressed muscles.
The herbal massage oil base is Malaysian palm oil that is rich in vitamin E and A. Regular use helps maintain smooth and supple skin tone.
Benefits of TANAMERA Herbal Massage Oil
An all-natural oil infused with lemongrass and other tropical herbs.
Stimulates blood circulation, promotes release of water retention and flatulence.
Stimulates metabolism
Assists the lymphatic system for the elimination of wastes throughout the body.
Nourishes and revitalizes for smooth and supple skin.
Aromatherapy effects to calm and relax.
Relief to back pain, stiff shoulder and neck, swollen and puffy ankles.
Ideal for Prenatal and Postnatal massage. Do not apply on the breasts for breastfeeding moms.