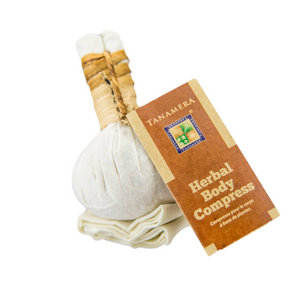 Hot compresses provide the same type of stimulation as acupressure, and are used to stimulate tender or sensitive areas that can not be massaged directly.
Packed with amazing goodness of Bengal Ginger, Turmeric, Lemongrass, Kaffir Lime, Sweet flag, Tamarind leaves, Pandanus, Shikakai, Lilac, Jaeng, Wild turmeric, Galangal, Snake Plant, our steam compresses are made to help relieve muscular aches and pain while helping to improve blood circulation in the treated areas.
 Relieves muscular aches and pain.
 Improves blood circulation in the treated area.