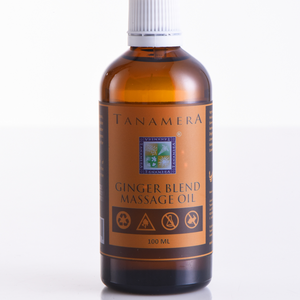 A blend of oils targeted to relieve muscle and abdominal cramps, reducing inflammation, and help with nervous exhaustion and stress related conditions.
Good to know:
Usage of Ginger in a massage oil or liniment relieves pain from arthritis or sore muscles, menstrual cramps, and headaches due to its warming properties. Ginger stimulates both appetite and poor blood circulation and relieves nausea and motion sickness. Lemongrass and lemon oil used is beneficial to the circulatory system.
Lavender oil helps the digestive system deal with colic, nausea, vomiting and flatulence. Lavender oil relieves pain when used for rheumatism, arthritis, lumbago and muscular aches and pains, especially those associated with sport.
For temporary relief of stomach discomfort, rub oil blend around the navel. Apply the massage oil blend to bring relief to muscular aches and muscles suffering from stress and strain. Use all over the body to soften and tone skin. To be used for external purpose only.
Ingredients
Vitis Vinifera (Grape) Seed Oil
Helianthus Annuus (Sunflower) Seed Oil
Simmondsia Chinensis (Jojoba) Seed Oil
Triticum Aestivum Seed Oil
Cocos Nucifera (Coconut) Oil
Zingiber Officinale (Ginger) Root Oil
Citrus Medica Limonum (Lemon) Fruit Oil
Cymbopogon Schoenanthus Oil
Lavandula Angustifolia (Lavender) Oil