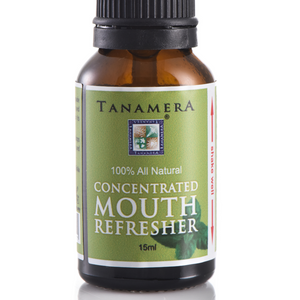 All Natural mouth refresher- Made with 100% natural and food grade ingredients that enable users to drop the liquid directly on the tongue to
refresh breath. Does not contain alcohol, colouring, artificial flavour and
chemical preservatives. The All-natural mouth refresher is safe for
consumption and can be taken on its own or dropped in a cup of water to
gargle. Contains Melaguard ™ a concentrated tea tree active known for its
antibacterial properties and pure honey that is used as a natural
preservative. A simple solution for those on the go, Tanamera Concentrated mouth refresher provides fast and effective refreshing breath in an instant.
*Reduce bacteria on teeth
*Protect teeth from cavities
*Improve Bad Breath