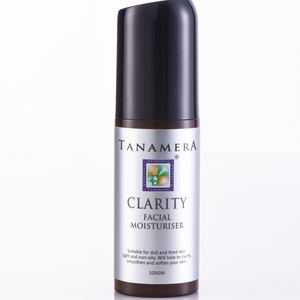 A natural preparation designed to brighten skin, perk up your complexion and give you a radiant, luminous glow.
Tanamera Clarity Facial moisturizer is made of 100% natural base consisting of Lecithin, sunflower, meadowfoam oil, potato starch, jojoba oil, avocado butter and xanthan gum.
With added cucumber seed, white mulberry bark and hibiscus flower acid, our 100% natural based TANAMERA Clarity Facial Moisturizer will help to inhibit melanogenesis and lightens skin tone and reduce skin pigmentation and age spot and at the same time deeply moisturize without any oily feel to the skin.
Additional licorice root, green tea leaf, rosemary leaf, Gotu Kola, Chamomile flower, Baikal skullcap root and Japanese knotweed root also makes the product suitable for fine and sensitive skin and can help with problems such as mild eczema, atopic dermatitis and psoriasis.
 100% natural base
 Inhibits melanogenesis, lightens skin tone, reduces skin pigmentation and age spots.
 Deep moisturizing factor without the oily feel
 Suitable for fine and sensitive skin, eczema, atopic dermatitis and psoriasis.
 Use daily to improve and soften skin texture