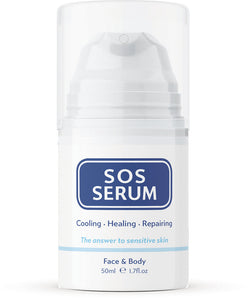 Use SOS Serum to:
Highly moisturize and soothe dry, sensitive, uncomfortable, and problem skin.

Reduce itching caused by eczema, psoriasis & dermatitis.

Support the withdrawal of steroid creams.

Treat & soothe cuts, bites, plant & insect stings, and minor burns.

Soothe and hydrate wind-chapped and sun-damaged skin.

Quickly and effectively manage allergic flare-ups.

Provide extra moisture for elbows and knees.

Suitable for all ages, even babies.
Directions for use: Gently pump and apply regularly to the affected areas. Suitable for all skin types including children. Patch test if sensitive to any of the ingredients. Avoid eye area for External use only.
✔ Vegan ✔ Cruelty-free ✔ Made in the UK ✔ Without Parabens, SLS, Colours & Fragrances
Ingredients: Aqua, Glycerine, Wasabia Japonica Root (extract), Obtusifolius (extract), Menthone Glycerin Acetal, Capric / Caprylic Triglyceride, and Stearalkonium Hectorite, Lauromacrogols, Tocopheryl Acetate, Hyaluronic Acid, Citric Acid, Ethylhexylglycerin, Undecylenic Acid.