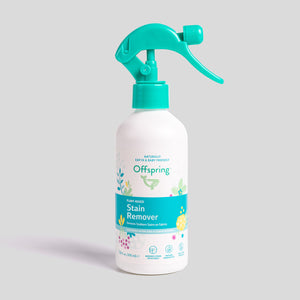 🌿Removes the toughest stains and spills
Effective targeted action on all types of baby stains. Spray on clothes, bibs, blankets and pillows for clean, refreshed fabrics!
🌿Plant-powered cleaning performance
Made with over 90% plant-based ingredients for natural stain-removing results while protecting delicate fabric fibres. Colour-safe.
🌿One product, multiple benefits
Infused with eucalyptus blue mallee and lavender oil to instantly disinfect and freshen up fabrics simultaneously.
🌿Mindfully Made
Made with plant-based non-ionic surfactant, sodium bicarbonate and natural eucalyptus and lavender oils for effective yet gentle cleaning and disinfecting properties
🌿Non-Toxic Formulation
Made without SLS/SLES, ammonia, chlorine, bleach, phosphates or fragrances that may cause allergies. Safe for sensitive skin and delicate fabrics.
Size : 300ml
How to use?
Spray generously on the stain and leave on for 15 minutes. Proceed to wash with Offspring Baby Laundry Wash. For best results, use on fresh stains that are less than 24 hours old.