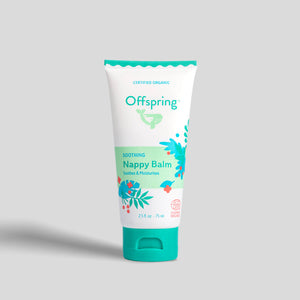 Calms and protects bums, especially dry, sensitive, and eczema-prone skin.
We've got you, and your baby's bottom, covered 
Rashes are a pain in the bum, so don't let them be a problem for your baby. This organic beeswax balm soothes irritation and keeps your baby's bum moisturized and protected.
No itchy business
Organic beeswax balm infused with a blend of organic olive oil, jojoba oil, and essential oils. Apart from itchy bums, our nappy balm also soothes dry skin, chapped lips, and cracked nipples. Certified allergy-safe and dermatologically tested, it's safe to use even on eczema-prone skin.
It's organic and it's fantastic 
We don't just claim that we're organic, we have them certified! To give you a peace of mind, we use only the best organic ingredients in our products.
Available size : 75ml