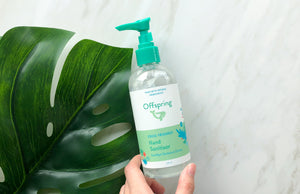 Plant-based sanitizer with a sugarcane-derived denatured alcohol content of over 60% to eliminate nasty germs.
The Safest Solution
Infused with Australian-grown lemon myrtle essential and sugarcane-derived denatured alcohol content of more than 60%, this sanitizer kills germs effectively, so you can enjoy peace of mind while letting your child explore the world freely. Perfect for all ages

Smooth and Moisturising 

Finally, a hand sanitizer that doesn't dry the skin! This sanitizer keeps your skin moisturized and protected at the same time. It also absorbs quickly into the skin, and doesn't leave behind a sticky feeling!
When life gives you lemons
Make a hand sanitizer! After each use, this sanitizer leaves a lingering fruity lemon scent that your sense of smell will be thankful for. It's made with all-natural ingredients so you don't have to worry about artificial fragrances!
Full of Love, Free of Bad Stuff
Our Hand Sanitiser is totally safe for sensitive skin. A baby's skin is 20% thinner than an adult's skin, which is why our sanitizer contains no unnecessary chemicals that will pose health risks to your child.