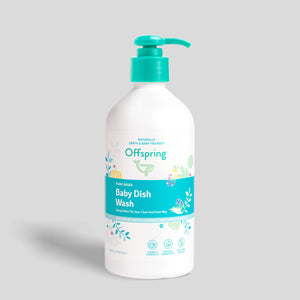 Offspring's Plant-Based Baby Dish Wash removes grease, milk residue, and food stains on baby utensils and bottles naturally and effectively. ⁠
⁠
This all-natural organic cleansing agent is formulated with organic soapwort extracts – a natural, fully biodegradable surfactant for gentle, eco-conscious cleansing.⁠
⁠
🍃 Made with non-ionic bio-based surfactant⁠
⁠
🍃 Natural coconut-derived surfactant combined with biosurfactant clean and wash dishes squeaky clean⁠
⁠
🍃 Pure lemongrass oil has a fragrant scent with anti-bacteria and purifying properties⁠
.
Add a few drops into water or apply directly to baby bottles, utensils or accessories.
Scrub well and rinse clean.