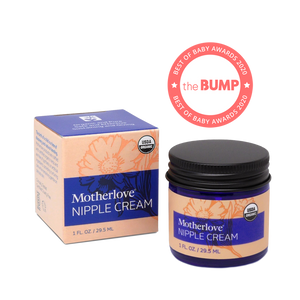 [DESCRIPTIONS]
Soothe your nips! Sore nipples? We have you covered, mama!

Breastfeeding and pumping can come with the discomfort of sore, cracked, and often damaged nipples. Motherlove's award-winning Organic Nipple Cream provides relief to sore, nursing nipples, and helps you meet your breastfeeding goals.

Lanolin-free organic nursing balm

Not just for nips!

Great as a pump lubricant

Does not need to be wiped off
The plant-powered ingredients in Motherlove's Nipple Cream make it an ideal salve for not only moisturizing sore nipples but soothing baby acne and dry hands as well. It also makes a great lip balm and pump lubricant! Expecting mothers often use Nipple Cream for sensitive nipples caused by pregnancy.
Please note: since we use only natural ingredients, the consistency of the product may vary.
[INGREDIENTS]
Extra virgin olive oil*, beeswax*, shea butter*, marshmallow root*, calendula flower*.
*USDA Certified Organic ingredients
Does not contain lanolin.
Bees for boobies! Did you know that our organic Nipple Cream is plant-based and then thickened naturally with organic beeswax? Beeswax consistency can vary depending on the bees it came from and their lifestyle. You may notice our salves and creams are sometimes softer, and sometimes a little firmer – but rest assured, our product still has the same trusted and effective formula moms and healthcare professionals have come to love for over a generation!
[SUGGESTED USED]
Use on sore, cracked nursing nipples to quickly soften and soothe skin. It also can be used as a pump lubricant. All ingredients are USDA Certified Organic, and it does not need to be washed off before nursing.