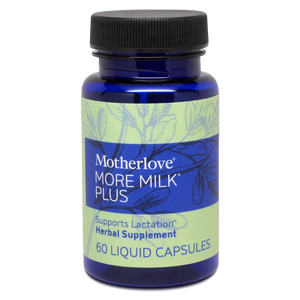 [DESCRIPTIONS]
Motherlove's best-selling More Milk Plus® blend is encapsulated in convenient liquid vegan capsules, specifically designed for fast-absorption. This product has been crafted to support and optimize breast milk supply for breastfeeding and is often taken to increase freezer stashes.
This vegan blend was specially formulated if you:
Have a low breast milk supply
Wish to increase freezer milk supply stash
Need general milk supply support
This herbal blend of organic herbs is designed to naturally support breast milk supply. It is widely recommended if you have a low milk supply, are experiencing a dip in supply as you return to work, are looking to build up your freezer stash, or are simply looking for support.
[INGREDIENTS]
Fenugreek seed*, blessed thistle herb*, nettle leaf*, fennel seed*, non-GMO soy lecithin, modified vegetable cellulose, medium-chain triglycerides
*USDA Certified Organic ingredients
This product does not contain any milk, dairy, egg, fish, shellfish, peanuts, wheat, or gluten.
The following are possible side effects. Discontinue use if adverse side effects appear. Fenugreek may cause upset stomach or excessive gas in mother or baby, may lower blood sugar, may cause break through menstrual bleeding, may lower the thyroid hormone T3, and should be avoided by women with hypothyroidism.
[SUGGESTED USED]
Take 1 capsule, 4 to 6 times throughout the day, or as recommended by your healthcare practitioner. 
Not for use during pregnancy. Discuss product use with a healthcare professional before use.

The following are possible side effects. Discontinue use if adverse side effects appear.

Fenugreek, especially if taken in larger-than-recommended doses, can cause gastric upset or gassiness in the mother, and less likely, in the baby. In More Milk Plus, Motherlove blends fenugreek with fennel, which is a digestive aid, to help counteract this possible side effect. Also, fenugreek is not recommended for women with hypothyroidism who are on medication, as it may block the absorption of the thyroid medication. In rare cases, fenugreek can also lower blood sugar and cause breakthrough menstrual bleeding.

For women who wish to avoid fenugreek, Motherlove recommends our fenugreek-free blend, More Milk, and/or our single-herb supplement Malunggay (Moringa). If you need help deciding which lactation supplement is right for you, please contact Motherlove directly.

Products are routinely tested for heavy metals and microbial contamination.