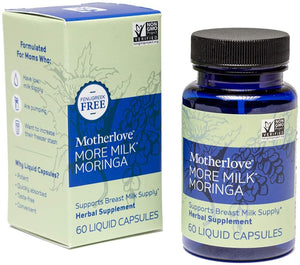 Fenugreek-free, moringa herbal blend for enhancing & supporting milk supply.
More Milk Moringa is a fenugreek-free blend to support breast milk supply. This concentrated liquid extract in a vegan capsule delivers a potent combination of galactagogues (milk-making) herbs—moringa, blessed thistle, nettle, and fennel.
This fenugreek-free blend was specially formulated if you:
Have a low breast milk supply
Wish to increase freezer milk supply stash
Need general milk supply support
Are looking for a fenugreek alternative
This blend includes the popular superfood herb, moringa, which is known to optimize milk supply and is high in vitamins, minerals, and iron. This blend is free of fenugreek for sensitive stomachs.