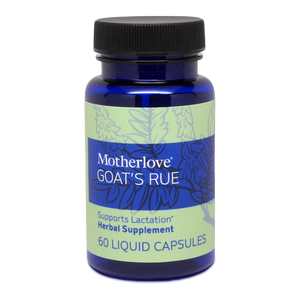 Goat's Rue is a popular herb that helps the development of build breast tissue and supports your breast milk supply.
This vegan blend was specially formulated if you:
Did not see a change in breast size during pregnancy
Delivered prematurely
Have had breast surgery
Are an adoptive mom and want to breastfeed
Or if you wish to relactate after weaning
This unique organic herb supports breast tissue development over time, so please allow two to three weeks of consistent use to see results. If you are looking to take Goat's Rue with a blend of other galactagogues (milk-making) herbs, we recommend More Milk Special Blend. 
[INGREDIENTS]
60 CAPS: Goat's rue herb*, non-GMO soy lecithin, modified vegetable cellulose, medium-chain triglycerides
120 CAPS: Goat's rue herb*, sunflower lecithin, modified vegetable cellulose, medium-chain triglycerides
*USDA Certified Organic ingredient
This product does not contain any milk, dairy, egg, fish, shellfish, peanuts, wheat, or gluten.
Please discuss product use with a healthcare practitioner before using it during pregnancy. Goat's rue, when taken in larger doses, may lower blood sugar so mothers on insulin should inform their healthcare provider if they are taking this product.
[SUGGESTED USE]
Take 1 capsule, 4 to 6 times throughout the day or as recommended by your healthcare practitioner. 
Discuss product use with a healthcare professional before use during pregnancy.

The following are possible side effects. Discontinue use if adverse side effects appear.

Goat's rue, especially when taken in larger-than-recommended doses, can lower blood sugar levels. If you are insulin-dependent, please consult with a healthcare provider prior to taking this herb.

Products are routinely tested for heavy metals and microbial contamination.