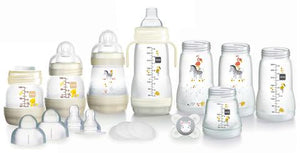 PRODUCT DESCRIPTION
The MAM Easy Start Anti-Colic Baby Bottles Starter Set that grows with baby's needs
A total feeding solution for babies from day one up to their first birthday
80% of mothers confirm less colic, gas and regurgitation are reduced1 and babies enjoy a relaxed feeding2
Baby approved: 94% of babies* accept the MAM Teat, thanks to its SkinSoft surface
The MAM Teat has a unique flat shape that fits perfectly in baby's mouth for a familiar feeling
Self-sterilising function is safe and perfect for mums and babies who are always on the go!
Double sided printing - large, graduated scale on one side and adorable designs on the other
Starter set includes: 2 Anti-Colic Baby Bottles 130ml, 2 Anti-Colic Baby Bottles 160ml, 4 Anti-Colic Baby Bottles (body only – no top, base and teat), 4 Sealing Discs, 1 MAM Extra Soft Bottle Spout, 1 MAM Hold My Bottle Handle and 1 MAM Start Pacifier
Product Details
The MAM Anti-Colic Bottles Starter Set is a total feeding solution for babies from day one up to their first birthday. The innovative anti-colic base, MAM teat and cap fit all three bottle sizes included in the set - 130ml, 160ml and 260ml. Simply choose the desired size, screw the parts together and go!
The MAM Anti-Colic Bottles with the patented vented base allows babies to drink at their own pace, relaxed and without interruption. 80% of mothers confirm babies suffer from less colic, while gas and regurgitation are reduced. With its smooth drinkflow, babies can drink at their own pace and relaxed as on the breast.
Babies love the feeling of soft skin. That's why the MAM Teat was developed with its silky-soft SkinSoft surface. Its innovative flat shape and flexibility gives babies a familiar sensation close to breastfeeding. No wonder our smart teat is accepted by 94% of babies!
MAM Anti-Colic Bottles are conveniently self-sterilising too – making it hygienic and time-friendly for busy mums.
Simply fill the vented base with 20ml water, place the MAM Teat on top, the MAM Anti-Colic Bottle next, and the spill-proof dust cap that can double as a measuring cup even for the smallest amounts. Heat for 3 minutes in the microwave.
Anti-Colic Baby Bottles have wide openings for easy filling. And thanks to its removable base, it's quick to clean. Double-sided printing features a clear measuring scale on one side and bright and adorable designs on the other to make mealtimes more fun and stimulating for inquisitive minds.
And now comes the switch – with the MAM Hold My Bottle Handle and MAM Extra Soft Bottle Spout, the anti-colic baby bottles can quickly turn into a cup for baby's independent drinking.
This Starter Set includes:
2 x Anti-Colic 130ml bottles (includes Silk Teat, Size 1 Teat)
2 x Anti-Colic 160ml bottles (includes Silk Teat, Size 1 Teat)
4 x Anti-Colic 260ml bottles (body only – no top, base and teat)
4 x Sealing Discs
1 x MAM Extra Soft Bottle Spout
1 x MAM Hold my Bottle Handle
1 x MAM Start Pacifier (0+ months)
Together with other MAM products, our Anti-Colic Baby Bottles Starter Set is scientifically-proven and developed in cooperation with the International Children Medical Research Society (ICMRS), pediatricians, developmental pedagogues and midwives. Only after the approval of our experts is a MAM innovation truly ready for baby life.
1 Field study, Austria 2011, tested with 73 mothers of colicky babies / Market research, USA 2010, tested with 35 mothers of colicky babies.
2 Medical study, Argentina, 2012, tested with 34 babies.
*Market research 2009–2014, tested with 1349 babies.
Important Reminders
1. Ensure that all bottle parts are completely dry before filling with milk or warming up the bottle. This will help prevent leakages from the bottle base.
2. When warming up the bottle, please unscrew the bottle top (but leave it on the bottle to avoid contaminants from falling into the bottle) to release pressure buildup. This will help to avoid leakages from the bottle base.
3. If switching between bottle and breast, we recommend to use either Size 1 or 2 Teat, as teat flow for these sizes are more similar to mother's nipple compared to our faster teat flows. This makes it easy for baby to switch between mom and MAM. There is no need to upgrade teat size as baby grows as mother's nipple flow stays the same through the entire time she is breastfeeding. Just remember to replace the teats regularly for hygiene purposes.