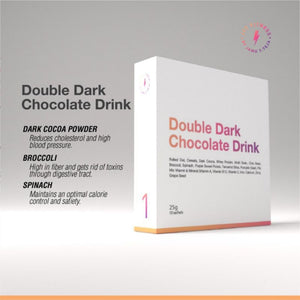 Double Dark Chocolate Drink consists of star ingredients such as rolled oats, dark chocolate, chia seed and grade seed extract. The key ingredients provide you with a morning booster and meal replacement to reduce your cravings and hunger pangs. There is a reason why DDCD is a fave amongst JTT Fitness lovers since it is the convenient way for you to get a healthy, low calorie meal on the go, but at the same time, it makes you feel full throughout the day without being 
Don't worry; we do not use any laxatives and chemicals that can harm your body! We also made sure that you receive only the best high quality ingredients and have included more than 6 pre mixed vitamins and minerals that can control compulsive eating from junk food and increase metabolism and fat burning.
Benefits:
1. Helps reduce calorie intake in any meal and can reduce the overall calories.
2. Reduce hunger and maintain satiety (a feeling of fullness).
3. Helps to burn calories naturally.
4. Help to get rid of toxins through the digestive tract.
How to Consume:
Mix one sachet with 100ml cold/hot water and shake well using our special JTT Fitness tumbler.
Precaution:
It is strictly advisable that the consumable product of JTT Fitness – No. 1 (Double Dark Chocolate Drink) should NOT be consumed with other supplements for the first 7 – 10 days in order to determine whether the product responds positively to the body. It should NOT be consumed by pregnant women and mothers who are still breastfeeding. It should also NOT be consumed with caffeinated beverages.