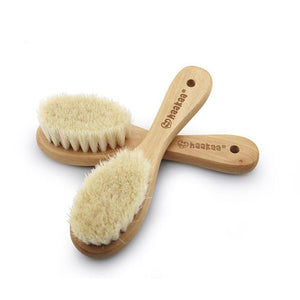 Brush and care for your little one's delicate infant hair with the Haakaa Goat Wool Baby Hair Brush. Brushing your baby's hair has major benefits to their wellbeing, and with our eco-friendly 100% natural brush, you can keep their scalp stimulated while also assisting to prevent cradle cap, generating blood flow and removing dried skin while keeping them relaxed.
Our brush is also available in a Brush and Comb Set, to help you care for your little one's scalp while promoting healthy hair growth. This includes a Wooden Comb with a fine-toothed design that gently untangles your bub's delicate hair. This set makes a wonderful baby shower gift that is sure to be treasured by any new mum.
100% natural. Made from rubberwood and goat wool.
Easy to hold and grip.
Soft woollen bristles guarantee no itching or scratching.
Help prevent cradle cap and increase blood flow.
Provides a relaxing and soothing sensation for your child.
Made using sustainable and eco-friendly materials.
BPA, PVC and phthalate-free.