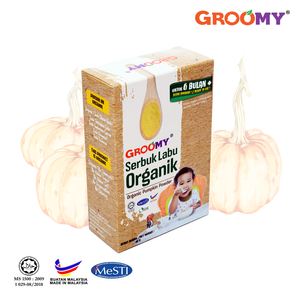 Organic Pumpkin Powder is formulated for babies aged 6 months+.
It has a natural sweet taste and is high in Vitamin C, which is good for baby's immunity. It is very easy to bring when travelling.
Organic means the food is free of pesticides, does not use chemicals in fertilizers, water sources, and so on.
This Product
40 g (Serving size =  2 g / Servings per pack = 20)
Organic (No Chemicals)
No Added Sugar
No Added Salt
No Preservatives
No Coloring
Ingredients:-
Preparation Method:-
Sprinkle onto ready-cooked food, or
Add it in while preparing your meals. Example: pasta, porridge, etc.