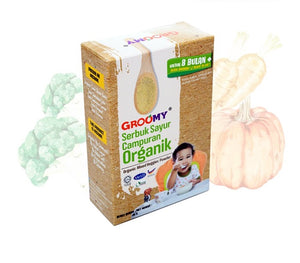 Organic Mixed Veggies Powder is formulated for babies 8+ months. A mixture of 3 organic vegetables is pumpkin, broccoli, and carrots.
Provides flavor and nutrients of vegetables and is a good source of vitamins for baby's immunity. easy to be carried anywhere.
Organic food is free of pesticides, does not use chemicals from fertilizers, water sources, and so on. So, the baby grows better.
Feature:

Organic (No Chemicals)
No Added Sugar
No Added Salt
No Preservatives
No Coloring
Ingredients

Organic Pumpkin
Organic Broccoli
Organic Carrots
Preparation Method:-
Sprinkle onto ready-cooked food
Add it in while preparing your meals. Example: Pasta, porridge, etc.
40g (Serving Per Pack = 20):-
Storage Instruction:-
Keep in a cool and dry place.