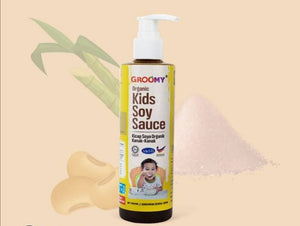 The Organic Soy Sauce is made with Organic Soy, Pink Himalayan Salt, and Organic Cane Sugar.
It is appropriate for children aged 1 year and above. It is used as a flavoring, marinade, and in cooking.
Organic food is free of pesticides, does not use chemicals from fertilizers, water sources, and so on. So, the baby grows better and healthier.
Feature:

Non-GMO
No White Sugar
No White Salt
No Coloring
Ingredients

Organic Soy
Pink Himalayan Salt
Organic Cane Sugar
Storage Instruction:-
Keep in a cool and dry place before open and keep refrigerated after opening.
200ml (Serving Per Pack ~ 20)
Recommended Age: 12 Months and above
Packing: 200ml / bottle