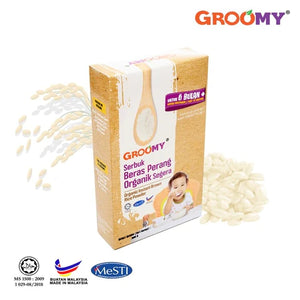 Organic Instant Brown Rice Powder is formulated for babies 6+ months. It is made from organic brown rice with no sugar, salt, preservatives, dyes, or other additives.
It is a good source of carbohydrates. Organic Brown Rice is one of the healthier types of rice because it is high in fiber and rich in natural nutrients, which help prevent baby constipation. Gluten-free, so it won't cause allergies in babies.
Organic food is free of pesticides, does not use chemicals from fertilizers, water sources, and so on. So, the baby grows better.
Features:-

200g (Serving Per Pack = 18):-
Organic (No Chemicals)
No Added Sugar
No Added Salt
No Preservatives
No Coloring
Ingredients
Organic Pearl Brown Rice
Preparation Method:-
Put 1 tablespoon (11g) of Organic Instant Brown Rice Powder into a bowl
Pour warm water (50ml) into the bowl and stir until it is well mixed.
Ready to be served with baby milk, fruits puree, soup, or any ingredients suitable with baby age.
Storage Instruction:-
Keep in a cool and dry place.