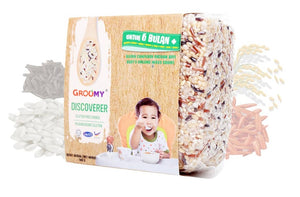 A combination of 4 healthy organic grains, Organic Japonica Rice, Organic Brown Rice, Organic Black Rice and Organic Red Rice.

A gluten free choice that is rich in fiber, iron, vitamins and minerals.
It provides fast and instant energy for baby. It is very suitable for babies with allergies/eczema because this rice is gluten-free and has an anti-inflammatory function.

Organic food is free of pesticides, does not use chemicals from fertilizers, water sources, and so on. So, the baby grows better.
Preparation Method:-

Soak Discoverergrains 24 hours before cooking for more complete digestion. Rinse and drains.
Add 3 cups of water and bring to boil simmer until all the water has been absorbed. Turn off the heat and allow the grains to stand for 15 minutes.
Ready to be served with other dishes. Add more water to cook porridge and finely blend according to baby age.
Storage Instruction:- Keep in a cool and dry place.