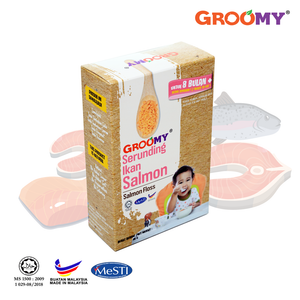 Salmon Floss is formulated for babies aged 8 months+. It is made from high-quality salmon fillets. 40 g
Salmon is high with omega-3 that can support the development of baby's brain, nerves and eyes. It also plays a vital role in helping baby's bones and joints grow healthily.
Salmon Floss is easier for parents to introduce to their babies because it has a soft texture that prevents babies from choking.
This Product
40 g (Serving size = 2 g / Servings per pack = 20)
Natural
No Added Sugar
No Added Salt
No Preservatives
No Coloring
Ingredients:-
Preparation Method:-
Sprinkle onto ready-cooked food, or
Add it in while preparing your meals. Example: pasta, porridge, etc., or
Stir-fry with onions or other suitable ingredients then mix it with porridge for an aromatic meal to enhance your baby's appetite.