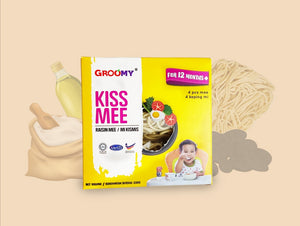 KISS MEE is made from unbleached flour with raisin puree. High in calcium which can strengthen children's bones (220g)
Each box contains 4 pieces of Kiss Mee. It can be served with soup, fried with Groomy Organic Kids Soy Sauce, or even as a snack. It is suitable for children aged 1 year and above.
This Product
220g (Serving = 1pc = 55g)
– Natural
– No added salt or sugar
– No preservatives
– No coloring
Ingredients:-
– Unbleached Flour
– Raisin Puree
– Water
– Palm Oil
How to Use?
1. Soak 1 pc of Groomy Kiss Mee in hot water for 15 minutes.
2. Drain for 15 minutes.
3. Fry to make fried mee or serve with hot soup along with other ingredients.