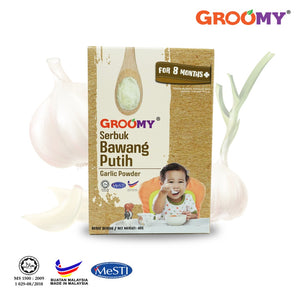 Garlic Powder is formulated for babies aged 8 months+. It is very convenient and saves more time when cooking. 40g, expires in 2 years.
Garlic contains vitamin B6, vitamin C and essential minerals. Garlic has been used as a treatment for flu for many years. Allicin in garlic increases the reaction of white blood cells to viruses.
40g (1 Serving = 2g (1/2 teaspoon)):-
Natural
No Added Sugar
No Added Salt
No Preservatives
No Coloring
How To Use?
Sprinkle onto ready cooked food.
Added into the cooking. Example : Pasta, porridge, etc.