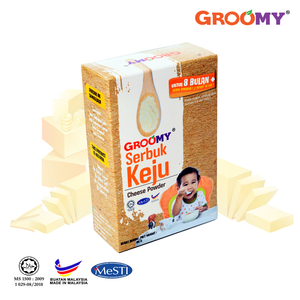 Cheese Powder is formulated for babies aged 8 months+. It is made with Halal and high-quality cheddar cheese block. 50 g 
It adds flavor and fat to food and is a good source of calcium for babies. It also contains other nutrients such as Vitamin D. This Cheese Powder is easier for parents to introduce to their babies because it has a fine texture and melts in food.
This Product
50 g (Serving size = 2 g / Servings per pack = 25)
Natural
No Added Sugar
No Added Salt
No Preservatives
No Coloring
Ingredients:-
Cheddar Cheese Block (Suitable for Babies)
Preparation Method:-
Sprinkle onto ready-cooked food, or
Add it in while preparing your meals. Example: pasta, porridge, etc.