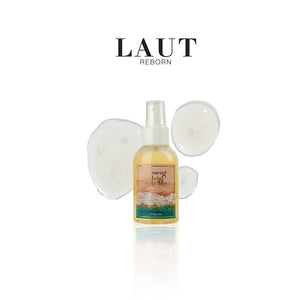 Ginseng Herbal Body Mist formulated with woody spritz, infused with earthy fresh notes of Vetiver Myrrh and Peppermint Essential Oils, this lightweight LAUT Body Mist provides you with several moisturizing and antioxidant benefits! Not only can it keep you feeling heavenly clean and fresh, but this luxurious LAUT Body Mist is formulated with Jojoba Oil and Vitamin E to leave your skin feeling soft, supple and moisturized. Myrrh Essential Oil gives more benefits to your skin as it is known to replenish and rejuvenate the skin. You can use this most as a perfume or also use it as a base to enhance other scents. Either way, this Body Mist by LAUT Spa Series will give a touch of classic beauty and elegance.
FUNCTION OF GINSENG HERBAL BODY MIST:
Gives instant freshness to the body + shirt.
Helps to provide moisture for dry skin.
Helps to shrink pores, reduce itch, and lessen body acne.
Helps to relieve stress.
Ginseng Herbal Body Mist is herbal based and has no alcohol which is suitable for sensitive skin. Ginseng Herbal Bosy Mist also has ingredients such as Chamomile, Bird Nest, Blood Orange, Cantella & Ginseng which ae very good for skin moisture. The smell of herbs also lasts a long time if used regularly.
Sweaty body will produce unpleasant body odor. Lemon Oil & Peppermint Oil are ANTI-BACTERIAL which helps to control body odor and become a natural deodorant.
SIZE : 100ml 
HOW TO USE:
Shake well before use. Spray generously around your body to emit afresh and woody aroma scent wherever you go or spray it to a pulse point like a traditional perfume. Re-apply throughout the day as often as desired.