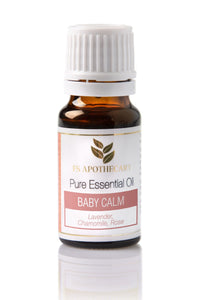 Description:
Baby Calm blend may have a gentle soothing and calming influence on the mind and body of a baby.

With Essential Oils of:
Chamomile Roman (Anthemis nobilis)
Lavender French (Lavandula angustifolia)
Rose (Rosa damascena)
This is some more info on each of the oils that go into the Baby Calm blend.
Chamomile is gentle, comforting, and calming. It may help deal with stress, mood swings, nervous tension, and sleeplessness.
Lavender French is soothing, balancing, and calming. It may help with meditation and aiding in stress relief and sleeplessness as well.
Rose harmonizes and boosts confidence. It may help alleviate sorrow, anxiety, and anger.