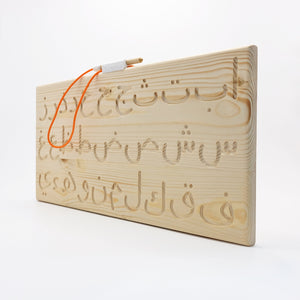 A product that motivates 'to Learn'.
Jawi Tracing is designed to help children during the beginning stages of writing development. This tracing board offers endless opportunities to practice Arabic alphabets. Other than using it on a table, this light wood can be used on a child's lap.

Features:
🌿3D printed pen holder and cap to make sure the wooden pen stays with the jawi board, all the time.
🌿An angled drilled hole at the back, can work as a wall hook.

Recommended Age: 3 years and above.

LxWxH Measurements:
460 (L) x 230 (W) x 18mm (H / Wood thickness)
* Please allow 1-5mm difference due to fabrication limitations.

Material:
Light-coloured Solid Pine wood, finished with natural beeswax.

Care Instructions:
Airblow the dust away from the piece and wipe with a microfiber/non abrasive cloth to remove any fingerprints.
Even though the wood is waxed that makes it water resistant, it is best to be away from water. And, clean up any spills or food as soon as possible to avoid stains.
Pine wood is an indoor wood, do not place under direct sunlight.
Every product has its shelf life. But, once this product is starting to look less attractive, you can add some shine and extend its life by re-sanding the surface and adding another layer of wax, OR, a layer of paint!