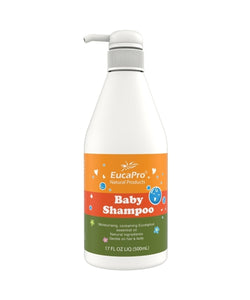 Eucapro Baby Shampoo is formulated to be gentle enough for infant's and babies' hair. It blends natural essential oils into a rich lathering wash that cleans without drying. This tear-free formula can be used on hair and skin for gentle cleansing that rinses clean, leaving a soft, fresh fragrance.
Features and Benefits
Tears free, soap-free
Phthalate-free
Gentle and Natural
Antibacterial with moisturizer
Gently Cleanses while maintaining healthy hair
Natural Ingredients
Contains no SLS, SLES, Paraben, and Sulphate
Storage:
Avoid direct sunlight. Keep in cool &dry places.
Care instructions:
In case of contact with eyes, rinse with clean water immediately. If irritation occurs, stop use.