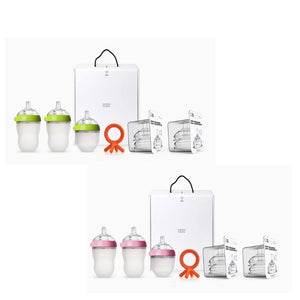 Starter Pack Includes:
1 x 150ml Bottle
1 x 250 Twin Pack
1 x slow flow nipple (2pk)
1 x fast flow nipple (2pk)
1 x teether (orange)
The Comotomo is not just another baby bottle!
Does your baby refuse to take a bottle? Do you want to combine breastfeeding and bottle feeding? Or do you just want a fantastic bottle your baby will love?
Don't sacrifice on quality for the sake of a few extra dollars.
The Comotomo baby bottle is designed to replicate the breastfeeding experience like no other bottle. This bottle may look like any normal bottle but the way it feels is much different. The Comotomo has an extra wide teat so that babies can latch on to the bottle in the same way they latch to the breast, thus eliminating the confusion when combining bottle and breastfeeding.
The bottle is made from super soft medical grade silicone which replicates the softness of the breast unlike hard plastic bottles. The medical grade silicone is very hygienic and has naturally anti-microbial properties. It is also free of all the nasty toxins that ordinary plastic bottle can have.
The Comotomo teats don't drip or leak which makes the baby work for their milk as they do when they are breastfeeding. Another great feature of the Comotomo is that you can squeeze the bottle at the beginning of a feed to mimic a letdown to let your baby know that it's feed time and to start sucking!
The bottle also has two anti-colic vents which eliminate unnecessary air intake. You can throw out your bottle brush because the Comotomo has such a wide mouth you can fit your hand in it to clean. The bottles are extremely heat resistant and are safe in sterilisers, boiling water, dishwashers and microwaves. They also are great insulators keeping your feed warmer for longer. You will never break them if you drop them, as the whole bottle apart from the coloured collar is made from soft silicone.
The Comotomo has a great success rate getting fussy bottle feeders to take a bottle.
The Comotomo 150ml bottle comes with a slow flow teat and is recommended from 0 to 3 months.
The Comotomo 250ml bottle comes with a medium flow teat and is recommended from 3 to 6 months.