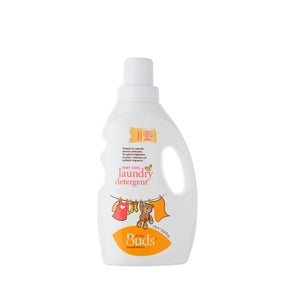 Size: 1 Litre
Powered by naturally derived surfactants. No optical brighteners, enzymes, colouring and synthetic fragrances.
Formulated to be tough on stains, yet gentle on baby's skin, and totally respectful of our planet!
• Enhanced with organic Aloe Vera juice
• Natural soap and sugar surfactants
• Scented with organic essential oils
• Non-harmful
• No optical brighteners, enzymes, colouring & synthetic fragrance
• Highly biodegradable plant-based ingredients
ENVIRONMENTAL BENEFITS
All surfactants are naturally derived and easily biodegradable. After washing, soap breaks into lime soap in waste water, which is considered as immediate degradation (primary biodegradation). Complete degradation will happen after a few hours. Sugar derived surfactant used in this product is also highly biodegradable.
Directions:  50ml (1 cap full) for a medium load of normal soiled laundry. Based on washing machines with 4 –5kg capacity. This laundry detergent can be used in 30 to 90°C washes. To respect the environment, run your washing machine with a full load, choose a low temperature washing cycle and follow dosage instructions.