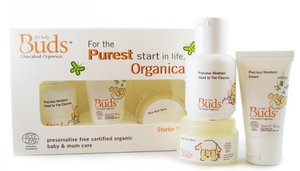 To see a newborn baby is to glimpse the true meaning of a miracle. Cleansing gently is paramount and our ultra mild amino acid and sugar derived cleansers is just the thing. CALENDULA FLOWER EXTRACT and CHAMOMILE DISTILLATE soothe and hydrate. The end result is a simple and kind concoction that removes dirt and grime without harming baby's delicate skin. 
New babies are studies in perfection. Our Precious Newborn Cream is specially created for those first three months. Combining the benefits of JOJOBA OIL, SESAME OIL and SHEA BUTTER with INCA INCHI OIL to preserve and protect, this lavish cream is also boosted with soothing SPENT GRAIN WAX and CALENDULA FLOWER EXTRACT. OLIVE LEAF EXTRACT completes the cream by promoting skin hydration and providing potent antioxidants. Use daily to nourish and help newborn skin adjust to life on the outside.
Keep baby's bum smooth and kissable with this rich and protective Baby Bum Balm. It is loaded with ORGANIC BEESWAX to create a barrier between baby's skin and the contents of the diaper, preventing irritation and discomfort. It also features soothing SPENT GRAIN WAX and essential fatty acids rich INCA INCHI. The trio of JOJOBA OIL, SUNFLOWER OIL and SHEA BUTTER moisturize while TOCOTRIENOL delivers anti-oxidants.
This complement of ingredients; together with anti-bacterial TEA TREE OIL, provide unsurpassed protection, soothing and healing properties.
98.8% of plant ingredients proceed from Organic Farming
What's in the box:
1 x Buds Cherished Organics Precious Newborn Head to Toe Cleanser 60ml
1 x Buds Cherished Organics Precious Newborn Cream 30ml
1 x Buds Cherished Organics Baby Bum Balm 15ml