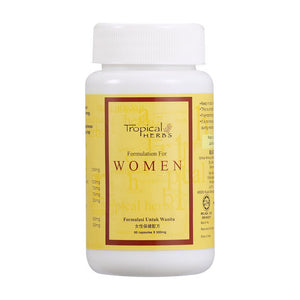 Exp Sep 2023

TROPICAL HERBS FORMULATION FOR WOMEN
Renew your passion – Introducing Tropical Herbs Formulation for Women, a natural alternative to enhance your relationship.
RELIGHT THE FIRE WITH GOOD NUTRITION
A healthy lifestyle is built on good nutrition, positive mental attitude, exercise and healthy relationships. However, stress, tiredness and various health problems can decrease energy levels and affect your mood. Let Tropical Herbs Formulation for Men and Tropical Herbs Formulation for Women work in synergy to relight the fire in your relationships.
INCREASE ENERGY AND IMPROVE YOUR WELL-BEING
Tropical Herbs Formulation for Women contains pegaga, shatavari, senduduk and turmeric extracts that have been used traditionally to address women's health issues, and to increase energy and feeling of well-being. Manjakani, betel nut and kayu serapat are also added for extra nutritional benefits.