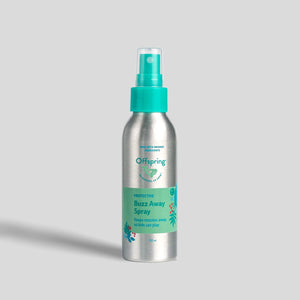 Sweatproof formulated infused with plant-based oils to protect skin from mosquitoes.
It's all in the DEET-ails 
Get rid of mozzies the natural way with our all-natural repellent. It's made without harmful chemicals like DEET, so you can say bye-bye mozzies, and hello fun
No greasy situations 

Nobody likes that greasy feeling, especially your child. Our repellent is made with a non-greasy formula that absorbs quickly into the skin, so your child won't feel a thing as they play.
What's better than being certified organic?  Certified allergy-safe 
We're tough on mozzies but absolutely gentle on skin. Made with certified organic ingredients, it's suitable to be used on all skin types, even sensitive ones.
How to use?
Shake well, then spray directly on baby's skin. Remember to rub evenly!
Re-apply every 2 hours if needed.
For babies 3 months and older.
Avoid direct contact with eyes and mouth.