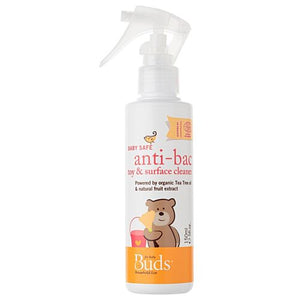 Exp : Oct 2023
Powered by organic Tea Tree oil and natural fruit extract

The Anti-bac Floor Cleaner is formulated with ingredients naturally derived from plants, and is safe for the entire family. It contains natural fruit extract and organic Tea Tree oil which are powerful antibacterial agents that can remove harmful bacteria and viruses safely.
Why is Buds Household Eco Unique?
Powered by Nature, with Absolutely Zero Nasties
Buds Household Eco is Certified by ECOCERT
Protect Your Baby from Harsh Chemicals and Challenging Environments
At Buds, we want to make the world a safer place for baby
At Buds, we are here to give you peace of mind and make both yours and baby's quality of life better. One of the ways we (and you) show the love for baby is to protect them from all that is potentially dangerous and toxic as well as germs and bacteria. All these aggressors are also the main cause of allergies. We believe in greener and safer care for baby.
Our range of Buds Baby Household Eco range has ZERO nasties, and cleans gently and effectively. We are certified by one of the strictest and most recognized certification bodies in the world, ECOCERT, and we only use surfactants that are of plant origin as well as no artificial fragrances or colourants, giving you a safe, effective, environmentally friendly range of cleaning products for baby.
As your little ones start to grow up and explore the world, you will have peace of mind, knowing that you are minimizing your baby's contact with harmful residue, chemicals and fumes of commercial cleaning products, which will hamper their growth and affect their health.